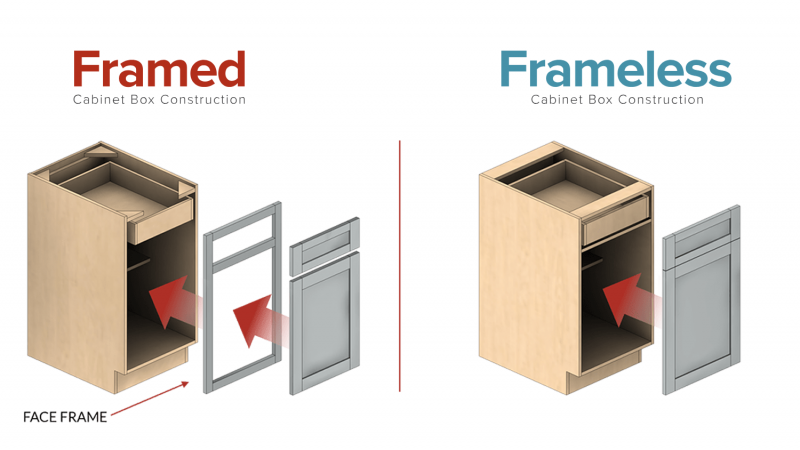 Frameless vs. Framed Cabinets
What Are the Differences between European and American Style Cabinets?
There is no doubt that cabinets play an essential role in organizing and styling your kitchen and life. Therefore, it is reasonable to say that the cabinets are a vital feature of the kitchen's design. Generally, there are two types of cabinetry systems that are installed in designing a kitchen. These two systems are known as frame and frameless cabinets. These two types are very famous and are also popular as European and American style cabinets. Framed cabinets are referred American-style cabinets, while frameless cabinets are known as European-style cabinets. Both cabinets have various features, advantages, and disadvantages. The main difference between the cabinets is the way they are built. Generally, framed cabinets have a covering structure to support the frame. In contrast, frameless or European-style cabinets don't have any overlaying.
Your Kitchen, Your Choice
The kitchen is the most favorite place in every home. It is a place where you love to spend time and find delicious edibles anytime you want. However, to have quick access to everything, you need your kitchen to be well-organized and perfectly designed. For this purpose, both the framed and frameless cabinetry systems are installed into the kitchens. Either you want to have a traditional or a fashionable kitchen design, you could choose any design you like. However, it becomes difficult for people to select an appropriate design for your kitchen at some point. That is why, in this informative blog, we are going to discuss every detail that could help you in choosing either framed or frameless cabinetry systems.
What Are Framed Cabinetry or American Style Cabinets?
Framed cabinets or American-style cabinets are the traditional style cabinets that have an overlaying frame. Hinges are used to connect the door to the cabinet box. These cabinet boxes are then connected to the frame. Framed cabinets are usually famous for their stability and strength if they are compared to frameless cabinets. However, because framed cabinets are an extra covering design, it offers less storage than frameless cabinets.
Advantages of Framed Cabinets
Framed cabinets or American-style cabinets have various advantages, and they are mentioned below.
Framed cabinets are economically fair if compared to a frameless cabinetry system.
They can be installed on both even and uneven walls.
Framed cabinets are provided with a wide range of cabinet accessories options.
They have many designs and colors that you can choose according to the theme of your kitchen.
Framed cabinets are easy to install and can be removed without much mess.
Disadvantages of Framed Cabinets
Like everything has some disadvantages and advantages, a framed cabinetry system also has some disadvantages that you should know before installing them into your kitchen.
Framed cabinets offer less storage because of an overlaying structure.
Modification and customization are complicated in framed cabinetry systems once they are installed.
Even after installing a complete overlay design in framed cabinets, the frame is visible and can be seen behind the cabinet doors.
Framed cabinets are specially customized to remove the seam, which is usually high on budget.
Lastly, framed cabinets give your kitchen a traditional look rather than a fashionable or modern appearance.
What Are European Style or Frameless Cabinets?
Popular as European-style cabinets or full-access cabinets, the frameless cabinetry system does not have an extra frame. In frameless or modern cabinets, the door is directly installed to the cabinet hinges. Unlike framed cabinets, a frameless cabinetry system provides more storage and occupies less kitchen space. The measurement for frameless cabinets is typically done in millimeters so that everything sits perfectly in them. Frameless cabinets offer better access, and their stylish design keeps your kitchen fashionable. They are sleeker in design than framed cabinets, but they do not provide the sturdiness provided by framed cabinets.
Advantages of Frameless Cabinets
European style cabinets offer many benefits, and some of them are being discussed below.
Frameless cabinetry system offers 10 to 15 percent additional storage than American-style cabinets.
The gaps between doors and drawers are accorded to give your kitchen a stylish look.
The sides of frameless cabinets are made so that no seam can be seen when you look at the sides.
The flush-finished feature of frameless cabinets provides a furniture-like appearance to your cabinets.
As an additional frame is not installed, frameless cabinets are manufactured from solid and durable materials.
Modern or European-style cabinets are more accessible and easy to use.
Frameless cabinets are easy to upgrade or customize even after installation. This leisure you cannot experience in framed cabinets.
Disadvantages of Frameless Cabinets
Frameless cabinets also have some cons, but it does not mean that they are limited in their benefits. Anyhow, a few disadvantages of frameless cabinets or European-style cabinets are being mentioned below.
Frameless cabinets, because of their delicacy and sleekness, are designed in fewer styles.
Frameless cabinets could distort if they are placed on uneven walls.
European style cabinets are usually more expensive than framed cabinets, but they can be easily upgraded, unlike framed cabinets.
They are manufactured with fewer materials; thus, variation is limited in choosing their designs.
Since there is no extra overlaying, frameless cabinets' durability is dependent upon the stability and strength of the construction of the cabinets.
Framed vs. Frameless Cabinets – Which Is Better for You?
In the end, choosing which cabinetry system is the most appropriate for you and your kitchen is based upon the requirements of your kitchen. Moreover, no one knows your kitchen better than you. That is why you should decide between opting for either framed or frameless cabinets according to your needs.
If the kitchen is small and you want a better organization, then a frameless cabinetry system is the best for you. In contrast, if you have a larger space and want to give your kitchen a traditional look, framed cabinets are the most suitable. Suppose you are concerned about stability and durability; then both options are open to you. If you prefer an economically fair cabinetry system, then framed cabinet is a good choice. Finally, if you are worried about your old-looking kitchen, stylish frameless cabinetry is the perfect solution.