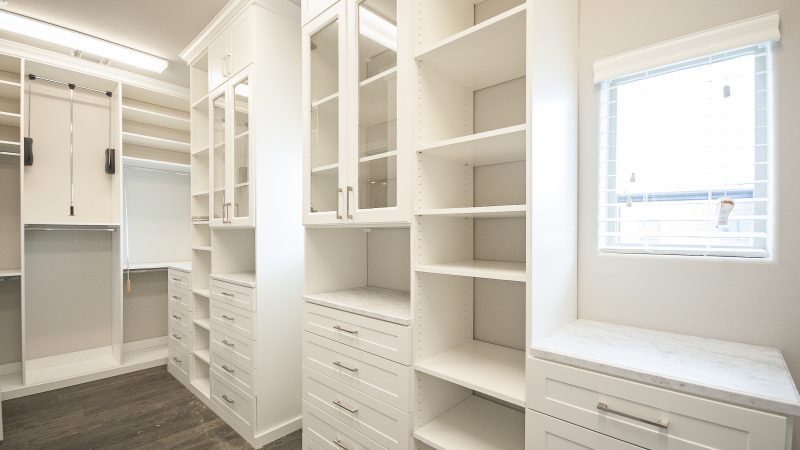 Custom Closet Solution
Start Your Day in an Organized Way
Like every other person, your day starts from choosing what to wear today, and for this purpose, you look up your closet. But, suppose that your closet is small, tiny, or has lacked management, then it would be difficult for you to select your desired clothes as a lot of time will be consumed in finding the right dress. But, now, there is no need to be worried as there is a solution to solve this matter and bring a significant organization in your life. The solution is custom closets. A customized, perfectly designed, and compact closet helps you stay organized and make your room or home more beautiful.
What Are Custom Closets?
As the name suggests, custom closets are those closets that can be modified, designed, or modeled as per your room's preferences. Usually, preset or built-in closets occupy a significant portion of space in your room, office, or any workplace. Millwork Design Center presents custom closet designs that are the ultimate solutions to live an organized life to get rid of the space-occupying closets and cabinets. Millwork knows that your room or workplace is a small world where you spend a significant part of the day. That is why comfort cannot be compromised at any cost. Less comfort means more tiredness, and more tiredness leads to anxiety.
What Are the Benefits of a Customized Closet System?
Upgrading your typical closet into an organized custom closet would be an exciting and functional step that you could take. There are plenty of advantages of having closets of custom designs. Below are mentioned the benefits that you can enjoy from your Millwork's closet solution.
●    More Storage
Enjoy more storage with custom closet designs as they occupy the possible least space of your room or workplace. In addition, they occupy less space than ordinary closets because they are made as compact as possible.
●    Save Time
The primary aim of a custom closet is to provide you a quick, organized, and easy access to your clothes, items, or belongings that are usually stored in closets. Whether you have a reach-in closet, closet island, walk-in closet, or hanging closet, all are meant to make your life comfortable.
●    Raise the House Value
Any home improvement project adds value to the collective worth of the house. Similarly, upgrading to custom closets makes your lifestyle better and increases your house's worth if you have any plans to sell it in the future. Also, it is essential to mention that houses are being constructed with custom cabinetry systems in them nowadays. Thus, it has provided the houses a modern look and also increases the success of the developers.
●    Enjoy
When you have a custom closet design, your life has not become comfortable, but it becomes fun to decide what to wear. Especially, a closet with a 360-degree organizer is an all-in-one feature among the many features of custom closets. A closet with a 360-degree organizer can store and display your shoes, clothes, tie, scarf, belts, and many more accessories that usually either get scattered on the dressing table or piled up on your bed.
What is The Process to Install a Custom Closet?
The process of having a custom closet design is straightforward. Usually, it comprises four steps only in which you have to play a minor role, and everything will be done professionally by the experts of Millwork Design Center. So without wasting any time, let's discuss the simple four steps to upgrade your closet now.
●    Free Quotation
When you contact Millwork Design Center, we send out one of our highly-trained professional designers to your house. After arriving at your home, our designer evaluates your accommodation and asks several questions about your preferences and the design you have in mind. This consultation service is completely free where our designer tries to get an accurate picture of what kind of design a customer has.
●    Designing
This is the most important step in the whole process as it sets out the basis for its design. Millwork's designers use the 3D rendering technique to present the precise image or idea to their customers. This rendered drawing is made from the information that you provide and collected by our designer.
●    Manufacturing
After you approve our project's drawings, the rendered images further proceed to the production facility, where top-quality and eco-friendly components are used to make customized closets. In the production, state-of-the-art machines are used to get an exact and perfect product according to the standards set by you.
●    Installation
After the manufacturing, the installation process comes. It is the final step that involves the installation of your customized, well-designed closets in your room or home. Our crew of experts arrive at your house and professionally install the closet system on the installation day without damaging anything and leaving behind no mess.
●    Enjoy Your Upgradation
After installing your customized closets, it's time to feel pride and enjoy your upgrading as it brings ease and organization to your life. You can manage, store, and place your belongings or some important stuff easily without worrying about accessibility.
The Services You Can Get in Custom Closet Solution
You can get many services if you are considering stepping up your lifestyle in a modern way. At Millwork Design Center, a wide variety of services is offered from where you can choose the cabinetry system of your choice. Below are mentioned the services that are provided in the custom closet solution.
Walk-in Closet
Reach-in Closet
Closet Hutches
Closet with 360 Organizer
Suspended Closet System
Closet Islands
Pantry System
Adjustable Shelves
Accessories
Which Fields is Millwork Design Center Specialized in?
From one room to a whole house, or one cabin to complete office, Millwork has provided its expertise. Our team of professionals is the main reason for creating and maintaining a long bond of trust between the customers and the company. The areas where we proudly serve and offer our services are being listed as follows.
Home Office
Wardrobe
Entertainment Centers
Wine Cabinets and Pantry System
Bathroom Vanities
Laundry Room
Wall Bed
Mudroom
Garage