Details turns an ordinary closet into a remarkable well organized storage experience to achieve reassurance. The product's appearance is as important as its durability, accessibility, and functionality.
The organization system will be designed to achieve a more durable, functional, and aesthetical design that matches your specifications and needs.
The custom closet accessories we offer are the best finishing touches to any closet system desired.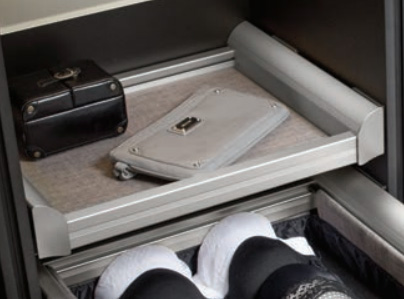 Pull-Out Shelves
For use as Jewelry Organizers, Divided Shelves or Folding Stations.
Fabric lined.
Full extension.
Soft closing.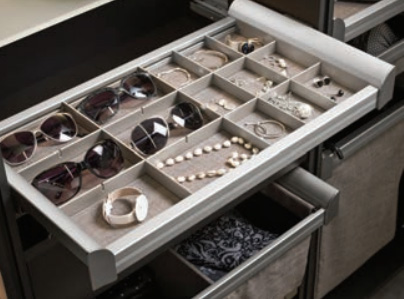 Jewelery Organizers
For use with Pull-Out Shelf.
H x D : 15 /16″ x 12″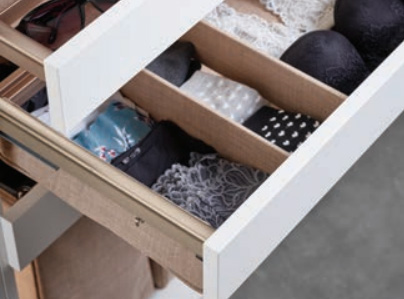 Lingerie Drawers
Designed specifically to organize more lingerie in less space.
Fabric dividers allow for completely customizable compartments.
Full extension.
Soft closing.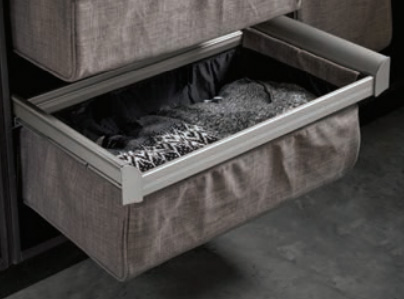 Deep Drawers
A sophisticated bulk storage solution specifically for the closet.
Fabric dividers allow for completely customizable compartments.
Full extension.
Soft closing.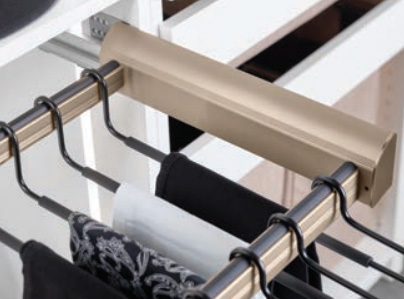 Laundry Organizer
Beautiful, deep, removable laundry bags in 3 widths.
Bags are simple to remove and carry to the laundry room with one hand.
Full extension.
Soft closing.
Storage Boxes
Fits perfectly on the top shelf of an 86″ high closet with an 8′ ceiling.
H x D : 7 3/8″ x 13 1/2″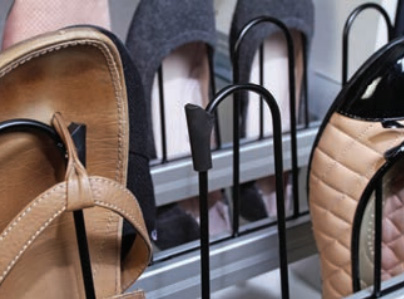 Shoe Organizers
Perfect solution to utilize closet depth and allow easy access.
Front clips convert the first row into sandal storage.
H x D : 7 1/2″ x 13 7/8″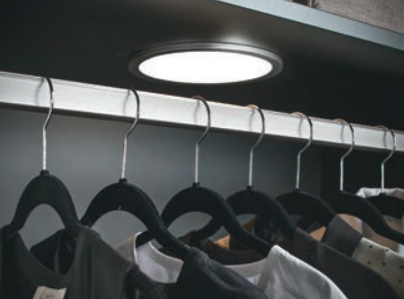 Wardrobe Tubes With Zinc-plated Supports
Protective cap reduces noise and prevents scratching.
D x H : 3/4″ x 1 1/4″
Wardrobe Tubes With Supports
Protective cap reduces noise and prevents scratching.
Tube can be mounted to the side panels or suspended from a shelf.
D x H x L: 3/4″ x 1 1/4″ x 8″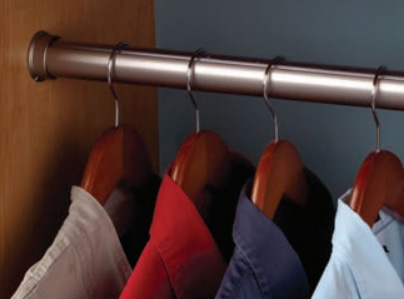 Rounded Wardrobe Tubes With Supports
Round with protective insert on top.
Ø : 1 5/16″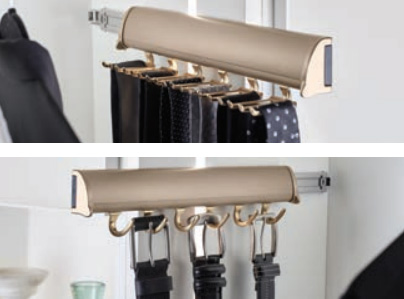 Tie Racks With Slides
Full extension.
W x H : 2 9/16″ x 2 5/8″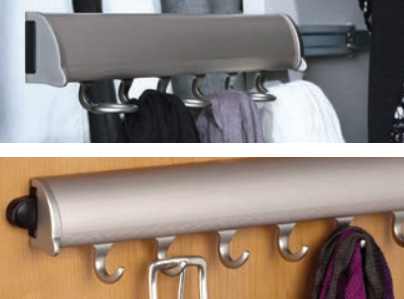 Scarf Racks With Slides
Full extension.
WxH:2 3/16″x2 9/16″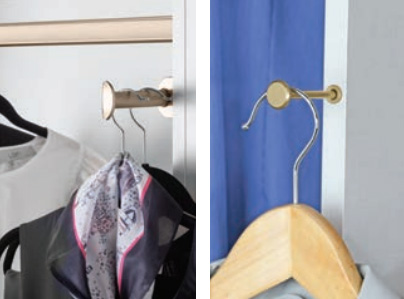 Valet Rod
Mounts to the side panel.
Weight capacity: 30 lbs. in vertical position.
W x H : 15/16″ x 15/16″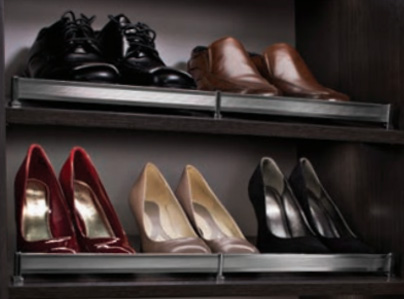 Shoe Fence Set
For shelving, available in standard widths.
Width can be reduced by sliding the end post off and cutting aluminum rail, reattach post by tapping on with rubber mallet.
Center post slides back and forth for easy positioning, supplied for lengths over 23″
Horizontal rails are two sided, one being smooth and other textured to match other Synergy Elite items.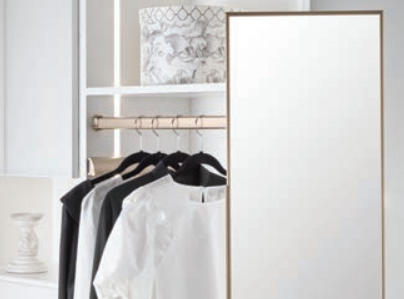 Tag Synergy Elite
Easy to use, pull out and rotate for full viewing.
Mounts with four screws.
Slides have detent in and out to hold mirror in place.
Ideal for spaces where installation is required on the outside of a panel and rotated inwards.
Mirror extends 6″ from the front edge of the closet allowing up to 345° rotation.
Provides great viewing angles from almost anywhere in the closet.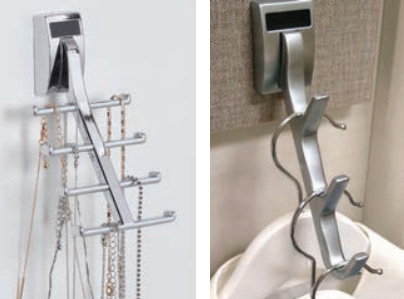 Tie Hooks & Waterfall Hooks
Hooks are used on customer supplied boards.
Tie hooks Stores 8 ties (L x W x H : 3 3/4″ x 2 3/8″ x 5 1/4″)
Waterfall hooks holds 3 coat hangers (L x W x H : 3 3/4″ x 1 / 2″ x 6 1/2″)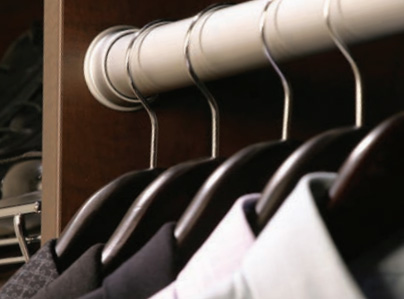 Rounded Wardrobe Tubes With Supports
Aluminum, anodized or powder-coated.
Ø : 15 / 16″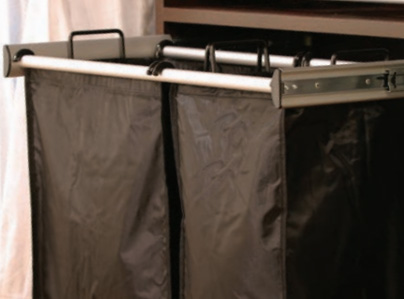 Pull-Out Hampers
Full extension with removable bags.
D x H : 14″ x 21 1/2″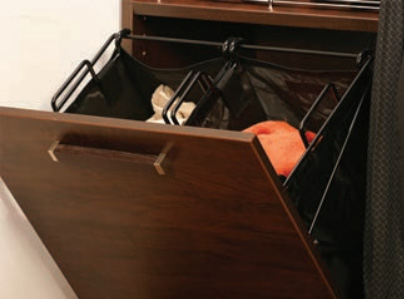 Tilt-Out Hampers
Screws to back of door.
Removable bags.
D x H : 13 9 / 16″ x 23 5/8″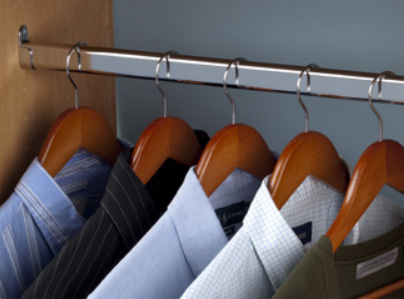 Oval Tubes With Supports
For insertion in 32 mm system holes, with attached dowels and an additional screw hole.
Material : Steel or Aluminum

W x H : 9/16″ x 1 3/16″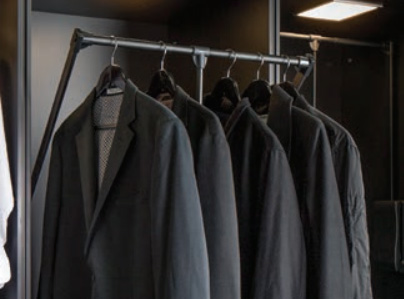 Wardrobe Lifts
Height :  33 1/6″
Material : Steel/Plastic

Wardrobe tubes are Ø 7/8″ with width adjustment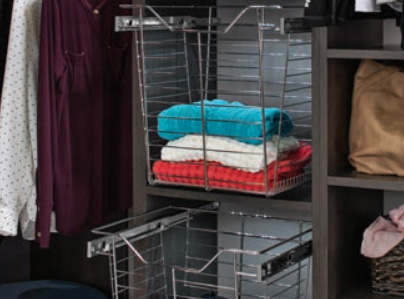 Wire Basket
Slides included with basket
For 18″, 24″ and 30″ interior openings.

Baskets easily disconnect for portability.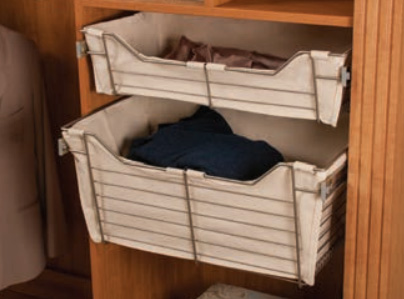 Cloth Basket Liners
Fabric loops affix with hook and loop fasteners.
Liners for 17″ high baskets have handles.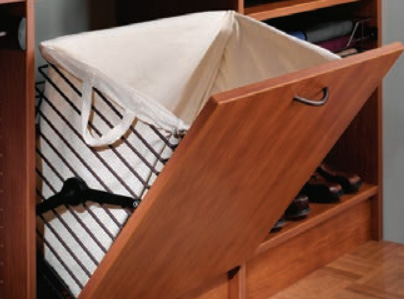 Laundry Hampers, Slanted
Mount by hanging on the back of a tilt-out door with bracket.
Height : 19 1/2″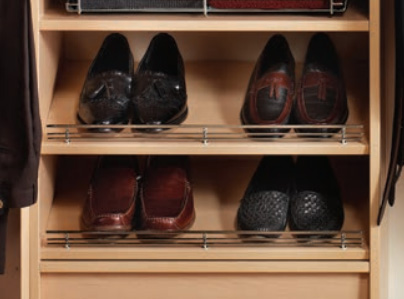 Shoe Fences
For shelves.
Attaches to shelf with press-in dowels that fit Ø 3/16″ drilled holes.
Dowels are on 1  1/4″ center increments.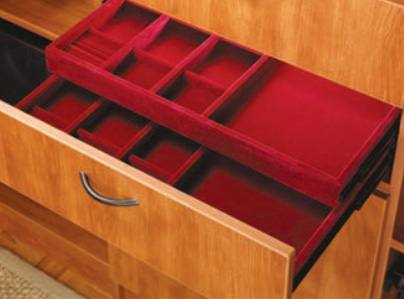 Jewelry Trays
Features one large compartment and nine small compartments, one specially designed for rings.
W x D x H : 22 15/16″ x 14″x2″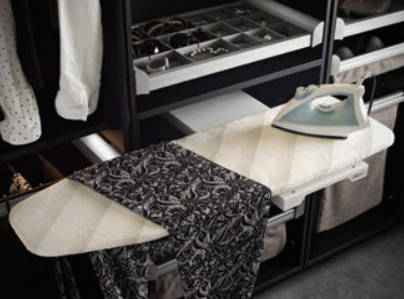 Shelf-Mounted Ironing Board
Rotates 180 degrees with seven pre-set positions.
The absence of ball bearing slides keeps clothing free of grease or pinch point damage.
Mounts to a shelf with supplied through bolts.
Fits into a (W x D) 24″ x 14″space.
W x D x H : 20 1/2″ x 13 3/4″ x 5 1/8″
Extended board length is 37 1/2″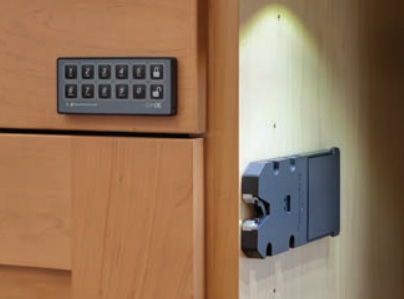 Digital Keypad Safe
Designed to fit within a standard 18″ wide x 14″ deep opening.
Electronic keypad accepts a customized 3-6 digit access code and features a master code option.
Emergency keys (2) are included in case battery power is lost or the access code is forgotten.
Includes mounting holes so the safe can be anchored securely to a wall or shelf.
Fixed shelf inside for optimal storage.
Strong, durable steel construction 1/16″ thick sides, 3/16″ thick door.
Weight : 31 lbs.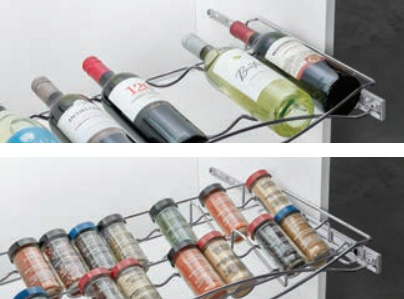 Pull-Out Wine and Spice Tray
Ideal for storing wine or spices.
Full extension slides allow for easy access to wine and spice bottles.
Spices are angled for clear visibility.
Height : 2 3/8″ for 14″ deep cabinets.
Wine Posts, Pegs and Rods
Stores and displays wine bottles so the label can be viewed from the front.
Posts are threaded and can be expanded to store 1, 2 or 3 wine bottles.
Easily attaches to 3/4″ substrate from back. Ø x Depth : 3/4″x4″ post and extension.
Rods span between two vertical substrates. Internal splines allow rods to be cut and fastened at any length. Installs with 1/4-20 screws