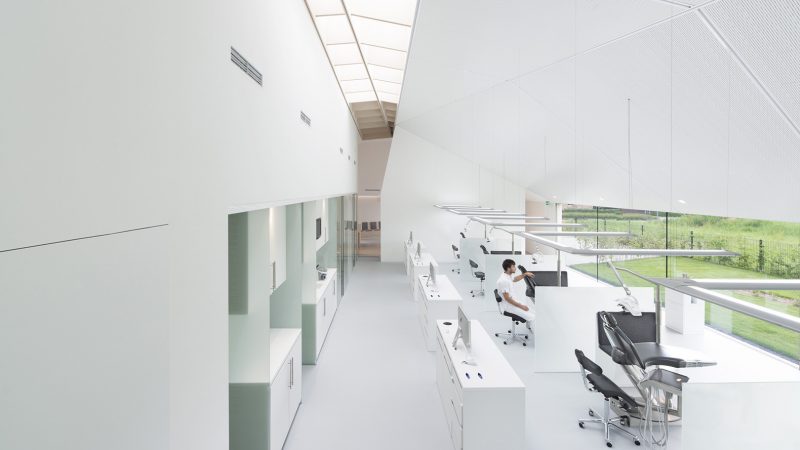 Commercial Spaces: Dentist Office
Smart Designs for Modern Dentists
Commercial Spaces – Modern Dental Office
Nowadays, the concept of commercial spaces is growing, and it is not limited to office, business, or industrial fields. Many other fields such as education and medical centers have also become a part of our commercial projects. Similarly, in the medical, dental office design is shaping to a great extent because of the evolution in their office construction. However, the dental office, most of the time, looks either smaller or stuffed because many essentials are placed on the table and shelves as a result of disorganization. Due to this lack of management, both the dentist and patient must be careful while moving themselves inside the dentist's cabin. To sort out all these hitches, a custom dental office is a solution that you could approach.
Millwork's Role in Manufacturing Smart Dental Offices
From the beginning, Millwork Design Center has done various commercial projects. Among them are also the medical and dental office projects. Dental office designs of Millwork bring organization to your life and a smooth workflow in your professional career.
To understand how cabinetry systems or custom closets are interlinked to a dental office and what they contribute to making a dentist's life more successful, let's discuss the design, storage, and dental office space.
Dental Office
A dentist's office is a place where sanitary conditions are well-cared for, and sterilization is the priority for both the dentist and the patient. Usually, a dentist's office is not as spacious as it should be. But, the time has changed. The custom cabinetry system has allowed you to take charge of your dental office design and decoration according to your requirements.
Consider your dental office having a stunning reception counter with cabinets of the same texture as flooring. No doubt, it will cast a decent impression on your patients. But, likely, suppose you want to upgrade sterilization, treatment room, and laboratory hygiene, then through custom cabinets. In that case, you can make your office or workplace a better place where doing professionalism would become a passion rather than a hectic duty.
What Services Can You Enjoy in a Custom Dental Office?
With the passage of time, many upgrades have been done in this field by providing various services. However, Millwork Design Center has raised the bar and set up an ideal dental office design that is stylish but functional and spacious. Following are the features that a modern custom dentist's office contains.
Custom cabinets for Operating Rooms
Racks and Cabinet Islands for Hygiene and Sterilization Rooms
Matching Countertops and Desks for Reception Area
Custom tables with detailed finishing and unique cabinetry system for the Consultation Room.
Upper & Lower Storage Cabinets to store and organize the patients' data.
Compact sink cabinet, made with high-quality materials.
Products made with eco-friendly materials maintain an optimum level of healthcare.
Laminated drawers and shelves to keep necessary tools.
To know more, you can check the website.
What Are the Benefits of Having a Custom Dental Office?
As the features have been mentioned earlier, it's time to look upon some benefits that make you think about why various dental office designs are gaining popularity in custom cabinet manufacturing. There are many benefits that you could get by installing a custom cabinet system in your dental office. Some of them are being discussed below.
●    A Smart Functional Design
A perfectly designed dental office could greatly influence you and your staff's comfort in physical and mental terms. An organized workplace in any field is the first step that you take for success. If there is no organization, there will be no smooth workflow. So, to get work done efficiently, custom cabinets, shelves, countertops, drawers, and desks play a vital role in bringing more convenience. That is why Millwork, since its creation, has been offering a wide variety of custom closets and cabinetry systems to make your life organized.
●    The Best Solution to Getting The Most
Due to high rents, affording a large place to practice is not everyone's cup of tea. So, to get rid of the problems you usually face in a small dental office, a custom dental office has stepped in. Now, custom cabinets having elegant designs, less accommodation, and more storage have solved all such problems. In simple words, you know better about your workplace so that you can design your office as you like. However, before making up your mind, it is always better to consult with a professional to get maximum efficiency without spending much money.
●    Use Every Inch of Your Place
Few buildings are designed to provide their maximum use. Not every building has a remarkable architectural feature that could present right angle curves and rooms of standard size. If a room is spacious but does not have right-angle corners, then a big room will not be of greater use than a small one with well-designed architectural characteristics.
That is why this is the time where you should go to get every inch of your workplace. But how can it be done? Well, now, it has become easier. By purchasing or installing custom design cabinets, you can make the most of your place as these custom cabinets fit perfectly to your room's corners and construction design. It can also contribute to making the appearances of your reception or waiting area beautiful and practical.
●    Organized Storage for Better Results
Indeed, storage is the primary and significant character of a cabinetry system. In a dental office design, storage plays an essential role as it stores the whole data of many patients and helps you organize your work. Millwork Design Center, being a specialist in functional storage, knows what storage means to you. For this reason, all the cabinets, drawers, shelves, and closets that are made have the maximum capacity to store many items, tools, and files. In a custom-designed dental office, maximum storage is provided by occupying less space in your room.
Also, custom cabinets, made with durable materials, are the long-term solutions to keep all your storage, organization, and minor space problems sorted.